How to do HCI research if your users are off limits?
[English]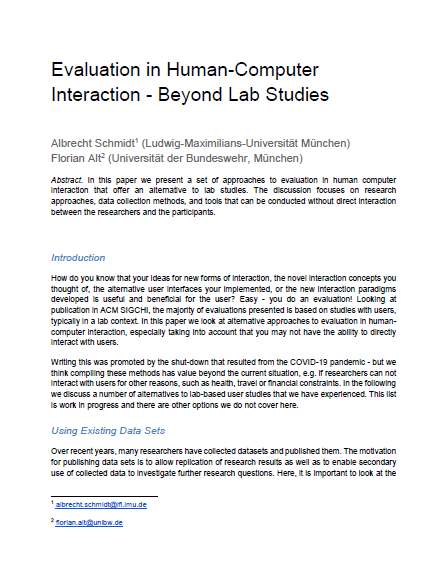 Working paper: Evaluation in Human-Computer Interaction – Beyond Lab Studies
How to move our research forward, if we cannot interact with people personally? This discussion happens at many HCI groups – ranging from a student project to large multinational collaborative projects.
Upfront – we do not have the answers, but we have ideas and experiences. Hence we do this online event – to share experiences and to learn more.
People around the world are staying at home to protect themselves and their communities from the ongoing pandemic. In a field dedicated to interacting with users, how do we carry out research when we are not allowed to come in contact with other people? What strategies can the HCI community employ to make the best use of their time working from home?
We are bringing together HCI researchers with a variety of backgrounds and expertise to discuss this timely topic, and brainstorm ways to do good scientific work while the world is on lockdown.
Each panelist will start with a statement about the experience (max. 120 Seconds) and then we move into an open panel discussion. We plan to record the session.
When: Tuesday, April the 7th 17:00 to 18:30 (UTC+2)
Where: Online at the following Zoom linkhttps://lmu-munich.zoom.us/j/725413893
---
Panelists
Moderators
Ludwig-Maximilians-Universität München
Universität der Bundeswehr München
Hosts:
Albrecht Schmidt (Ludwig-Maximilians-Universität München), Florial Alt (Universität der Bundeswehr München)
Organized by: