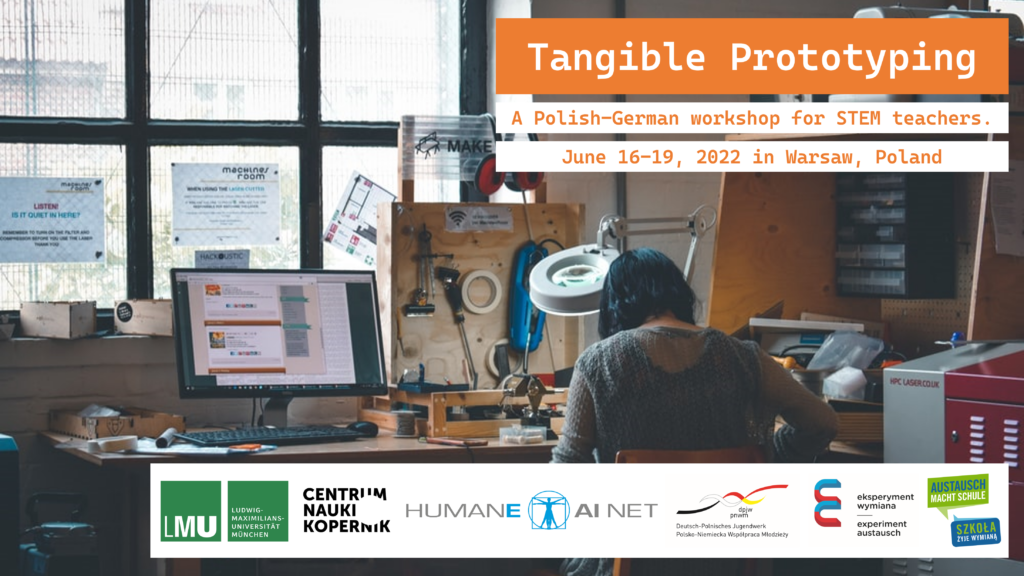 June 16-19, 2022 at the Copernicus Science Center in Warsaw, Poland.
UPDATE: Registration deadline extended to April 30, 2022.
How to build a smart weather station? How to build a pendulum that can measure its frequency and amplitude? How to build a solar system model where the speed can be controlled? How to communicate scientific knowledge to school children in an age-appropriate way through tangible and interactive experiences?
In cooperation with the German-Polish Youth Office (DPJW / PNWM), the Copernicus Science Center (CSC), and the Ludwig Maximilian University of Munich (LMU), organize a workshop for teachers interested in STEM to extend their knowledge in prototyping interactive objects, which can be utilized to teach educational topics. Participants will learn creative prototyping methods for tangible interactive devices to implement STEM projects in an international exchange between Polish and German teachers.
Goals and topics
In this workshop, we invite you to take the first steps in planning, designing, and implementing interactive prototypes with us. We will send you a set with different microcontrollers together with sensors and actuators before the workshop to get you started. No previous knowledge and no special hardware is necessary beyond a laptop or desktop pc (Windows, Mac, or Linux) suitable for everyday use. Through two online seminars and learning materials for the asynchronous preparation, we will introduce you to microcontroller programming before the physical workshop in Warsaw. During the four days in Warsaw, you will work in mixed Polish-German groups on a joint project. We will support you in the process, from idea creation to building several iterations of a prototype to a quick evaluation of the prototype with real users in the exhibition of the Copernicus Science Center. In the program, you can expect:
An introduction to programming microcontrollers and working with sensors and actuators.
Support in generating ideas for communicating scientific content through tangible prototypes.
Practical assistance in planning and implementing physical prototypes.
Intercultural exchange of experiences with STEM teachers with the chance to initiate school partnerships and exchange programs for students.
Visit the hands-on exhibition of the Copernicus Science Center.
Date and place
June 1 Introduction to digital prototyping part I (online)
June 8 Introduction to digital prototyping part II (online)
June 16-19 Workshop at the Copernicus Science Center in Warsaw, Poland
Preliminary Schedule
Day 1: Exploring the space & Looking for inspiration
Thursday, June 16
16:00 Welcome and getting together
17:00 Visiting the exhibition at the Copernicus Science Centre
18:30 Wrap-up after visiting the exhibition and looking for inspiration
20:30 Joint dinner
Day 2: Building our first prototype
Friday, June 17
9:30 International warm-up
10:00 How to build a tangible object with a hardware kit?
11:00 Coffee break and time to match up
11:30 Brainstorming ideas for prototypes
13:00 Lunch
14:00 International touch base
14:20 Creation of initial concepts
15:40 Presentation of tools and resources for further work
16:00 Break
16:30 Working on prototypes & showcase
18:30 Closing of the day and dinner
Day 3: Constructing prototypes and testing, testing, testing
Saturday, June 18
9:30 International warm-up
10:00 Empathy map for users of our prototypes
11:00 Coffee break
11:30 Work on projects I in Copernicus FabLab
13:00 Lunch break
14:00 Work on projects II in Copernicus FabLab
16:00 Break
16:30 Testing with visitors of Copernicus Science Centre
18:00 Dinner & Hackathon night
Day 4: Showcase & International collaborations in the Future
Sunday, June 19
9:30 International wrap-up
10:00 Presentation of products and partnerships
11:30 3 next steps for future collaborations
12:00 Closing of the seminar
Lunch (optional) & Leaving
Program may be subject to change.
Seminar languages
The seminar will be held in English. The ability to communicate in English is a prerequisite for the seminar.
Costs
The participation fee is 70 Euro / 140 PLN and ­includes program costs, accommodation in a single room and meals. Travel costs will be reimbursed on a pro-rata basis (see travel cost calculator).
Registration
Registration is possible until April 01 April 30, 2022 via the online form. Participation in the seminar is limited to 12 teachers from Germany and 12 teachers from Poland. Particularly invited to register are STEM teachers with students aged 12 years and older.
Organizer
The Ludwig Maximilian Universität München (LMU) is one of the most renowned universities in Germany. As part of the institute of computer science, the Human-Centered Ubiquitous Media group researches and teaches at the crossroads of human computer interaction, media technology, and ubiquitous computing.
Copernicus Science Center (CNK, Centrum Nauki Kopernik) is a science museum standing on the bank of the Vistula River in Warsaw, Poland. It contains over 450 interactive exhibits that enable visitors to single-handedly carry out experiments and discover the laws of science for themselves. The Center is the largest institution of its type in Poland and one of the most advanced in Europe. In 2018, since its opening, it had been visited by over 8 million people.
The German-Polish Youth Office (GPYO) is an international organization that facilitates encounters and cooperation between young Germans and Poles. For more than 30 years, it has financed and initiated German-Polish youth encounters and supported them in terms of content. With the Experiment Exchange program, the GPYO promotes STEM projects in international youth exchange.
Do you have any questions?
Szymon Filipowicz, szymon.filipowicz@kopernik.org.pl
Florian Müller, florian.mueller@um.ifi.lmu.de
Elisabeth Ritter, elisabeth.ritter@pnwm.org
We are looking forward to your registration!