Guest Lecture on "Augmented Reality as an Entry Point to Parallel
Consciousness" – Dr. Jason Orlosky from Osaka University
by Yannick Weiß
Why live in reality anymore? This was one of the existential questions Jason Orlosky asked us during his presentation, making the point that we all already live in an almost completely man-made world, just physically augmented instead of only visually. Jason discussed a lot of different projects and applications concerning Augmented Reality and especially how it could be an entry point for Parallel Consciousness.
Parallel Consciousness
Parallel Consciousness describes a utopian interaction between a human and a digital representation of cognition, basically a human consciousness inside a machine that can truly recognize your current thought processes, emotions and
needs and gives the user the right information at the right time. An Artificial Intelligence (AI) inside a User Interface (UI) that can understand humans the way we do or even better. We already see it in movies and TV shows all the time, for
example JARVIS – Tony Stark's Artificial Intelligence in Iron Man, which could almost be considered a person.
Difficulties and Opportunities
But real AIs have a lot of difficulties thinking like humans and vice versa. Jason talked about some older attempts at smart UIs and AIs and how they failed without the means to sufficiently perceive the users cognitive state. "Clippy" from
Microsoft Office was one of the examples that mostly annoyed people instead of helping them, due to a lack of perception and understanding leading to contextually useless or unnecessary information.
But AI has gone a long way since then, now built into Smartphones and lately integrated in Virtual and Augmented Reality displays and Head-Mounted-Displays, which allow for great new ways to interact – actively or subconsciously – with AI. Augmented Reality has great potential for cognitive state recognition: AR already has knowledge of the user's viewport through environment cameras used for tracking and mapping. It also enables easy access to the eyes of the user by eye trackers and can potentially even implement Brain-Computer-Interfaces effectively.
Eyes – "The mirror of the soul"
Eye tracking can give a lot of information about the user's current thought process. It can detect reading, memorizing and searching, based of eye movements. Visual information can also be hidden or shown based on the pupil's vergence and focus. A lot of Emotions can also be recognized solely by the pupil's orientation and dilation. Jason presented some projects already utilizing a combination of AR, Eye Tracking and AIs to manage text positions, automate instruction manuals, show a user where he stopped reading, or overall predict his cognitive state or current activity.
Jason presented an interesting project of his for automated diagnosis of Parkinson's disease through VR. He argues, that those kinds of illnesses and disorders are still very difficult to diagnose manually. One commonly used method to diagnose movement disorders is based on observing the eyes, which makes an eye tracker very valuable for automated diagnosis, especially in VR HMDs. Jason created an experimental interface where the participants had to perform different tasks in Virtual Reality, while their pupil dilation and the smoothness of their eye movements was tracked and analysed. The results showed significant differences in people diagnosed with Parkinson's disease as opposed to the control group, showing a great potential for future use of eye tracking and VR/AR for diagnosis support.
How far can we go?
The access to the user's viewport and computer vision also enables perception of context and environment, which can be used for memory modification e.g. for dementia patients. Even mind reading is not in the realm of the impossible, judging by an example showing an AI being able to roughly reconstruct seen clips by measured brain activity. But one important question always remains: Which aspects of cognition can we offload to Artificial Intelligence and which should stay? A lot of mundane tasks are already farmed out to computers and machines, e.g. calculators. Artificial Intelligence would allow us to remove even more of those tasks from our cognitive load, letting us focus on the important ones. Tasks with no or just short term memory requirements can also be offloaded without impairing human learning. Logical and complex long term memory tasks, as well as symbiotic tasks or joined learning, should in turn remain part of the human's mental workload. Artificial Intelligence should always support cognitive tasks without impairing the user's learning. In short: Make them smart but don't make us dumb in the meantime.
Reinforcement Learning
But how can we train our virtual counterpart to better understand how we humans think and learn? Jason argues, that Augmented and Virtual Reality allows us to train both human brains and the interface simultaneously, for example by reinforcement learning. Machine Learning already uses reinforcement learning for training routines and humans generally learn by reinforcements: actions in the environment lead to a state change, which can reward or punish the user. In Mixed Reality – Augmented and Virtual Reality and the things in between – applications actions, environments and rewards can be generated virtually, making it a great choice for human and AI learning. This means that the user interface can train in parallel to the user to create better and more relevant augmentations for him.
But since the involvement and presence in Virtual and Augmented Reality can be a lot higher, than in regular displays, addiction could become a serious problem. Fast virtual rewards can become more important than the much harder achievements in reality. We already see this problem in gaming and gambling, and even a lot of relationships have become virtual, due to the advancement of Mixed Reality and Artificial Intelligence. Even the most simplistic AI with a low grade of immersion – a Tamagotchi – was perceived as a very real consciousness.
What does the future hold?
But what about the future, will there be an AI equal to our human consciousness? A User Interface that doesn't require any manual interaction, magically seems to understand the user and allows us to offload a huge junk of our cognitive tasks? There are still a lot of difficulties to be overcome, but Jason argues that Augmented and Virtual Reality, especially in combination with additional tools like eye trackers, can definitely be used as a stepping stone towards such a smart User Interface.
MMI2 – WS18/19
1. Guest Lecture (24.10.18)
by Dr. Jason Orlosky
Written by:
Yannick Weiß
HCI Master – 2. Semester
Augmented Reality als Einstiegspunkt in das parallele Bewusstsein – Dr. Jason Orlosky
by Richard Schäffer
Wir kennen sie doch alle: Virtuelle Avatare, die uns eigentlich die Bedienung eines Programms erleichtern oder uns gar in unseren Aufgaben und unserem Alltag unterstützen sollen. Stattdessen empfinden wir sie teilweise sogar als störend oder als nicht sonderlich hilfreich. Doch worauf kommt es eigentlich an und wie können wir diese virtuellen Avatare heutzutage umsetzen? Was hat es überhaupt mit Virtual Reality und Augmented Reality zu tun und wie sehr fließen diese Technologien in unser reales Leben ein?
In dem Vortrag "Augmented Reality as an Entry Point to Parallel Consciousness" von Jason Orlosky im Rahmen der Veranstaltung "Mensch-Maschine-Interaktion 2" wurden mitunter diese Fragen angeschnitten.
Künstliche Intelligenz und Augmented Reality
Virtuelle Avatare, aber auch Roboter oder Programme, die mit uns kommunizieren sollen, verfügen über eine künstliche Intelligenz, die es ihnen ermöglichen soll, uns zu verstehen und mit uns zu interagieren. Dabei sollte die Kommunikation möglichst natürlich und authentisch ablaufen. Doch künstliche Intelligenz hat immer noch Probleme damit, den Menschen fehlerfrei zu verstehen. Dasselbe gilt für Anwendung mit Augmented Reality. Es wird jedoch bereits heutzutage schon davon gesprochen, dass virtuelle Avatare eines Tages mit Hilfe von Augmented Reality noch präsenter in unserem Leben werden. Etienne Koo spricht in ihrem Vortrag "How 3D Avatars will change your life" darüber, dass solche Avatare nicht nur als Unterstützer und Begleiter in jeglicher Situation fungieren werden, sondern, dass sogar romantische Beziehungen mit ihnen geführt werden könnten, sobald sie über eine ausreichende künstliche Intelligenz verfügen. Überdies hinaus erzählt sie von einer Vision, in der Menschen nach ihrem Tod mit Hilfe eines virtuellen Avatars nach ihrem eigenen Abbild weiter an der Seite ihrer Familie und Freunde existieren könnten. Diese Konzepte klingen heute vielleicht noch unmöglich, sind laut Etienne Koo jedoch in einigen Jahren umsetzbar.
Es sind aber nicht nur virtuelle Avatare, die von Augmented Reality profitieren. Stichwort: Parallel Consciousness. Wir benutzen Computer bereits als Speicher für Informationen, Termine, Daten und alles, was wir uns nicht merken können oder wollen. Würden wir nun zusätzlich die Hilfe einer künstlichen Intelligenz hinzunehmen, die uns kognitive Aufgaben abnimmt, machen wir uns unser Leben sogar noch einfacher. Ob das gut oder schlecht ist, ist eine ganz andere Frage.
Geräte, die Augmented Reality erzeugen, greifen auf unsere Augen zu und können so nicht nur zusätzliche Informationen für uns einblenden, sondern direkt von unseren Augen ablesen, wie es uns gerade geht, wie wir uns fühlen oder worauf wir uns konzentrieren. Wir müssten nicht einmal mehr eigene Anweisungen geben, da die künstliche Intelligenz versteht, welche Informationen wir benötigen. Wenn wir uns verirrt haben, zeigt es uns den richtigen Weg. Wenn wir etwas vergessen haben, erinnert es uns daran und wenn wir etwas Wichtiges nicht bemerken, blendet es einen holographischen Hinweis für uns ein. Selbstverständlich benötigen wir für solche Programme gute Interfaces und eine starke künstliche Intelligenz. Außerdem muss nicht nur das Programm den Menschen verstehen, sondern auch der Mensch das Programm. Wir müssen der künstlichen Intelligenz vertrauen.
Vorteile von AR für den Menschen
Auch wenn man vielleicht nicht direkt daran denkt, birgt Technologie mit Augmented Reality sogar Vorteile für die Behandlung oder den Umgang mit so mancher Krankheiten. Eine demenzkranke Person könnte beispielsweise eine Brille tragen, die mit einer eingebauten Kamera in regelmäßigen Abständen Bilder vom Alltag der Person macht, welche sich die Person anschließend ansehen kann. Die Brille könnte solche Bilder mittels Augmented Reality zukünftig auch direkt einblenden, um den Träger daran zu erinnern wo er herkommt oder welche Gesichter er kennt. Eye-Tracker, welche die Bewegungen der Augen analysieren, könnten beispielsweise erkennen, ob der Träger an Parkinson leidet, und so eine frühe Diagnose ermöglichen. Menschen, die Farben nicht erkennen können, könnten davon profitieren, dass eine Kamera an der Brille Farben erkennt, und dem Träger mit Hilfe von Projektionen anzeigt, um welche Farbe es sich handelt, wodurch Warnsignale oder ähnliches einfacher erkannt oder von anderen Zeichen unterschieden werden könnten.
Nicht nur in solchen besonderen Fällen profitieren Menschen von Technologien mit AR, sondern auch in gewöhnlichen, alltäglichen Situationen wie in der Arbeit. Neue Mitarbeiter könnten mit AR-Brillen eingeschult werden, indem ihnen holographisch angezeigt wird, welche Arbeitsschritte sie als nächstes ausführen sollen oder worauf sie achten müssen. Selbst das Lesen von Texten würde sich einfacher gestalten, weil AR-Brillen Seiten scannen könnten und sich merken könnten, wo wir stehen geblieben sind oder an welchen Wörtern wir hängen geblieben sind und uns gegebenenfalls Übersetzungen oder Erklärungen dieser Worte direkt einblenden könnten. Mit einer sogenannten X-Ray Vision wäre es uns sogar möglich Dinge zu sehen, die für uns gar nicht sichtbar wären (wie zum Beispiel Farben im ultravioletten Bereich), solange die Geräte diese Informationen erkennen, umwandeln und uns in anderer Form anzeigen. Neben diesen Beispielen sind zahlreiche weitere Anwendungsmöglichkeiten von AR vorstellbar.
Wie "real" ist unser Leben heutzutage noch?
Natürlich profitiert auch die Spieleindustrie von diesen Entwicklungen. Bei Immersive Gaming taucht der Spieler zum Teil oder sogar vollständig in die virtuelle Welt ein. Spiele wie "Pokémon Go" nutzen Augmented Reality, um die Realität mit virtuellen Objekten zu erweitern, während hingegen Virtual Reality den Spieler in eine völlig virtuelle Welt zieht.
Hier stellt sich die Frage, wie die Zukunft aussehen wird. Ist eine Realität ohne virtuelle Objekte überhaupt noch vorstellbar? Unser Alltag wird von technischen Geräten regiert und oft spricht man von einer Down-Head-Generation, in der Menschen lieber über ihr Handy kommunizieren als direkt mit ihrem Gegenüber zu sprechen. Wie sehr verändert sich unser Alltag, wenn Augmented Reality und Virtual Reality für jeden zugänglich sind?
Jason Orlosky erwähnt in seinem Vortrag, dass man von Anfang an bedenken sollte, welche Aufgaben man auf Maschinen abwälzt und welche nicht.
Einfache Aufgaben, Kleinigkeiten, wie den Stundenplan oder Termine kann man getrost abgeben und von einer künstlichen Intelligenz organisieren lassen. Logische Aufgaben, die menschliches Lernen und komplexe Reaktionen erfordern, sollte man allerdings nicht so einfach von einer künstlichen Intelligenz erledigen lassen. Nicht nur, weil wir uns nicht sicher sein können, ob intelligente Maschinen diese komplexen Aufgaben richtig lösen würden, sondern auch, weil wir sonst selbst irgendwann nicht mehr damit zurechtkommen würden, wenn wir uns daran gewöhnen, dass Roboter für uns denken und wir unsere eigene kognitive Leistung gegen 0 sinken lassen. Auch wenn die erst so utopisch klingenden Vorstellungen und Visionen plötzlich greifbar wirken, sollten die Entwickler von AR- und VR-System nicht nur auf den eigenen Profit abzielen, sondern dabei auch die ethischen Aspekte beachten. Denn es ist vieles möglich, aber sicher nicht alles von Vorteil für die Menschheit.
MMI2 – WS18/19
1. Guest Lecture (24.10.18)
by Dr. Jason Orlosky
Written by:
Richard Schäffer
Guest Lecture: Participatory Prototyping to Inform the Development Of a Remote UX Design System in the Automotive Domain – Stavros Tasoudis
by Daniel Steidl
Stavros Tasoudis is Ph.D. Candidate in HCI and works on HMI/ HCI simulation studies. He is specialized in car simulating tests and for his guest lecture he introduced us in the topic Participatory Prototyping by presenting a user study he carried out. This blogpost is also filled with further information from the study's related paper ( Participatory Prototyping to Inform the Development Of a Remote UX Design System in the Automotive Domain). In addition, the author added some information to expand the User Requirements Engineering theory.
Motivation and researching in automotive context
The latest technologies in the car (e.g. autonomous driving) effect a fundamental change in using a car. Secondary tasks like interacting with an entertainment system develop to a primary activity. That also changes the way to design an automotive cockpit.
This is why Mr. Tasoudis started researching in this area. User Research combines techniques like Contextual Inquiry, Naturalistic Observation, (Job) Shadowing, Convert Observation and Participant Observation. If you implement new prototypes, you can use Usability Testing to test them.
A pilot study is a shift between the driver and the researcher. The idea is to develop a remote UX Design system to support a (UX) researcher in this shift. For that Tasoudis and his team tried to identify explicit, observable, tacit and latent needs from UX Design Professionals. They recruited twelve professionals with the age from 18 to 34. The participants consisted of eight academic UX-Designers and four from the industry.
A study in the car has it Žs own challenges, which are important to note in automotive context. The researcher can distort the driver's experience by her or his presence. Other possible challenges are Intrusiveness (because of the limited space) and the concern for privacy and safety in the car. The researcher has to make sure, that the driver would not be harmed while the interaction takes place. Driving itself has a cognitive effort for the participant, which could also affect a study. Taking notes in an automobile, the researcher should pay attention on motion sickness. In the end the research effort in automotive context is much higher than on traditional methods.
Epistemology-pragmatism
If you work with the user to create or to improve a product, you have to be careful. The relationship between researcher and the consumer is bi-directional. In most cases the user doesn't know what is really important to get the perfect product for a specific need.
A good example, what happens if you ask your user too directly, is the Atari Lynx (see the book Designed for use, page 21). In the early 1990's Atari wanted to become market leader for handheld consoles, which was owned by Nintendo GameBoy. The responsible researcher invited users to ask them, what they would prefer. In the end, the Atari Lynx got a big sized display and enormous performance inside.
The product failed extremely, because the consumer (a kid in most cases) wasn't able to put it into school bag to carry it around. It was too big for a handheld device. Also the Lynx's battery last only a few hours because of the high performance.
Henry Ford is quoted to have said "If I had asked people what they wanted, they would have said faster horses." Whether he did really say that, it has a true core.
To avoid collecting a wrong requirement you can use job shadowing or pay attention during the dialogs with the participants. It is import to observe the driver's reactions. Tasoudis mentioned that requirements are co-constructed in the ongoing dialog between the user and designer.
Nevertheless, ethnographic research is unusual in automotive environment and researchers only slowly catch this field. Mr. Tasoudis told us, that Nissan made a few studies to explore sociocultural issues in the driving experiment. Also, BMW is using early remote open innovations and co-creation paradigms by involving users in the design phase.
Prototyping workshops and their important need
To develop a well-designed system, the researchers did some prototyping iterations combined with agile methods like User-Centered Design and Design Thinking. The prototyping process includes construction and testing it in collaboration with the prospective participants. After the testing iteration, they collected the data and what the test persons said, did and made. With this method they identify the values, which need to be fulfilled by the designer. The result is creating design goals of all these findings.
The following sentences are from Tasoudis related paper, which described the initial workshop session very well: "The first part of the toolkit consists of cards of low-fidelity paper illustrations of components […] derived from the guidelines of previous work. These cards both serve as stimuli for discussion (i.e., what the users say and do) about the design and application of the system in context, the acceptance of the technologies used, the system's architecture and interactivity, and lay the foundations as a tool for prototyping (what the users make).
The paper cards represent technologies or affordances previously used to help in identifying the context of the vehicle, supporting the remote communication, and presentation. We base the selection and design of our cards on previous work on remote communication, automotive domain deficiencies and UX Design process guidelines."
Exploit the results
The next step is to analyze the workshop. That was made by visualizing all information at once on a glass wall. Patterns were identified. Important issues were clustered. Personas and scenarios were created. After sketching user-flows the first interactive prototype app were implemented.
Interacting in context – critique session and results
In a final iteration, Stavous Tasoudis made a co-designed session with the UX Professionals. The event was also used to get some feedback and critique about the prototype.
All this impressions resulted in updating the proposed system and an automotive domain. The research team could capture the results in ten Participant Needs and seven UX Goals. Following needs were developed:
Privacy (Avoidance of intrusiveness)
Efficiency (Quick interaction)
Effectiveness (Map participant's feelings)
Engagement (More in-depth insights)
Naturalness (Natural to use)
Ease of Use (Feel comfortable)
Information retrieval (Assist in avoiding information loss)
Self-Image awareness (Support different levels of self-presentation)
Politeness (Interaction only at the right time)
Flexibility (Adapt needs based on the situation of use)
And finally following UX-Goals were shaped out of the study:
Support the contextual understanding (Empathy and Effectiveness)
Reduce the intrusion of people's lives (Privacy)
Support long-term understanding of behavioral patterns (Effectiveness)
Operate even when the problem is ill-defined (Flexibility and Effectiveness)
Avoid redundant information at any interaction (Efficiency, Ease of Use, and Flexibility)
Avoid anxiety about uncertainty (Privacy, Engagement, Naturalness, and Self-image awareness)
Feeling of intelligent interactivity (Efficiency, Ease of Use, and Information retrieval)
MMI2 – WS18/19
Guest Lecture (07.11.18)
by Stavros Tasoudis
Written by:
Daniel Steidl
Guest Lecture on "Avatars and Social Interactions – Engineering Social Realism" – Dr. Stephan Streuber
by Yannick Weiß
Stephan Streuber is an Assistant Professor at the University of Konstanz and is very experienced in the field of neuroscience, where he made his PhD, as well as computer science. He was invited to talk to us about his research into social perception and social avatars, especially in conjunction with Virtual Reality.
Why use Virtual Reality in researching psychology?
Researching psychology and social interactions is accompanied by lots of obstacles, because typical lab experiments are not able to reproduce actual real-life situations to a satisfying degree. Virtual Reality allows us to close or at least narrow this gap between the lab environment and reality. This is due to the high degree of immersion a Virtual Reality system can provide, resulting in an increased illusion of presence. This further allows the simulation of situations that otherwise could not be experimented in, e.g. situations that pose a danger to the participant. Experimental Control is another important issue in experiments where VR can be a great benefit, since it allows you to control most of the environment. Conclusively, VR offers a lot of advantages to regular experiments, while being relatively cheap, portable and scalable.
Triggering Emotions
Virtual Reality fairs well when it comes to triggering different emotions like aggression, anxiety or stress, due to the high perceived presence inside the virtual world. Stephan told us how he achieved these emotions in his work: To make participants anxious, they had to step into a cage. They then got lifted high above a city until a sudden explosion made them fall. Stress could be created similarly, by putting pressure on the participant. Stephan showed us an experiment where the participants had to solve math questions under time pressure on a floor, which tiles exploded and fell down, when a wrong answer was given. Or to generate aggression, participants were pitted against another player (actually an AI) in a game of hot wire, where both players were able to give each other electroshocks to disrupt the other player.
Studying Social Interactions
The coordination of social interactions with other people is something that comes to us naturally. We are very good at it, without really knowing why, which makes it very difficult to study. Even the most mundane looking situations – e.g. getting handed a coffee from a barista – requires analysis and deduction of the interaction partner's mental state, the action itself, the objects being interacted with and the social context of the situation. A lot of times an action fails, it is due to one interaction partner misinterpreting the intentions of the other.
One possible way to study natural social interaction is to occlude certain visual information, e.g. black out faces, in the tested situations. Virtual Reality allows us to do that rather easily, while still being able to keep the rest of the perceivable environment steady. Artificial Intelligence further allows us to erase the need for a second person to interact with, negating the influence the two people would have on each other. Stephan showed us an experiment about visual cues, where participants were confronted with another person – controlled by AI, visualized and animated as a person – in a table tennis match. He observed, whether and what visual cues where used to predict the next shot. It showed that prediction through visual cues is used in table tennis a lot more often than assumed and that the context can play a major role, for example when playing in competition or cooperation. How much the prediction is dependent on the human counterpart was examined in another study in Virtual Reality conducted by Stephan, where participants had to give a High-Five to virtual avatars – a human and a robot-arm. Both times the exact same animation played, but there were significant differences in the trajectories of the user's hands, supporting the claim that context matters for those kinds of actions.
Self Avatar
So far, we've only talked about exchanging the virtual counterpart, but we can also replace the visual representation of one's own body in Virtual Reality. Stephan showed us how this could be used to study body perception for example of people suffering from anorexia nervosa – an eating disorder characterized by the desire to be thin and often leading to food restriction. The study used a 3D-Scanner to accurately remodel the user's body, then changed specific properties to make them look fatter or thinner. The resulting virtual bodies – approximately ranging from -20% to 20% to the actual BMI of the user – were presented to the patients and a control group, with the task of finding their actual body. Surprisingly, both groups did very well, although when asked about the desired body shape, the anorexic patients chose a significant thinner body type than the control group.
Constructing Body Shapes
But how thick or thin a body is, is only a small fracture of how we describe bodies. Using special types of body models – skinned multi-person linear models (SMPL); see this video and paper – it is possible to generate a virtually unlimited amount of different body shapes. Stephan and his team used these models together with a machine learning algorithm to understand exactly what vocal descriptions (e.g. pear shaped, short, attractive, feminine) correspond to what body parameters. From this they were able to reconstruct bodies with a reconstruction error similar to 3D-Scanners, which allowed them to ultimately generate bodies based on descriptions or even just a single word. Since they can translate the descriptions of bodies into actual models, it is also possible to reconstruct characters of books based on their description or to just browse through a huge database of body models by applying keyword filters.
But people not just only relate specific vocal descriptions to body shapes, we go way further: A study, that Stephan conducted, showed that many people associate body types with personality traits. These social biases were found on group level as well as subgroup and individual level. This allowed him to reconstruct bodies from described personality traits (e.g. trustworthy, independent, powerful, democrat or republican), similar to the previous construction through body descriptions. This is a great way to study social biases, for example different associations for male and female bodies, e.g. the difference in body types for an aggressive woman and aggressive man.
Try it out for yourself
If you want to build a body yourself, you can try out and play around with the following tool, provided by the Max Planck Institute for Intelligent Systems. It allows you to generate body models according to different keywords and scales: BodyTalk .
MMI2 – WS18/19
3. Guest Lecture (24.10.18)
by Dr. Stephan Streuber
Written by:
Yannick Weiß
HCI Master – 2. Semester
Avatars and Social Interactions:
Using Virtual Reality as a Tool to Study Social Perception and Interaction – Dr. Stefan Streuber
by Christina Scheckenhofer
In the last decades the way of studying psychological behavior looked the same: Researcher tried to observe natural interaction in a
typical laboratory experiment. But is this the right way to explore natural interaction and behavior? Even if such experiments are
controlled and have a high degree of internal validity, in most cases, a laboratory environment does not reflect the real world and
the results may not match with the real-life situation. Therefore, the external validity of laboratory experiments is very low in
contrast to field studies. Is there a way to improve the validity?
With the technological advance of the last years new kinds of experiments appeared. One might be Virtual Reality (VR), which can be
used as a research tool for psychology. In VR, researcher can control the experiment the same like they would do in a labor
experiment. The difference is, that people feel present in the real-life world, it seems like a realistic situation and looks like
a natural interaction. The environment is everywhere and the participants are immersed in the virtual world. For example, people
may walk on a plank in real life, which is just on the floor. But with VR glasses they seem to be on top of skyscrapers and walk
along this plank. The situation feels very realistic for them.
This experience and other VR experiments can also be made at the exhibition "Thrill of Deception", which is currently in
Munich.
Therefore, experiments in VR may have big advantages. It is cheaper than a "normal" laboratory experiment and portable.
Due to the fact that each participant experiences the same conditions and gets the same feedback from the panel,
external disruptive factors are almost eliminated and the experiment is scalable.
Coordination of Social Interaction
But how can social interactions in a VR experiment be coordinated? Humans know what to do in a social interaction intuitively,
which is facilitated by the fact that they do not only react, but also participate in a certain situation. For example, to buy
a coffee in a coffee shop, the buyer uses several information sources to know what to do next. As the buyer can not look into
the head from the seller, he derives information for instance from the mental states, the body language of the seller and the
social context. This information is integrated to know how to interact social. But how can researcher study such natural social
interactions? And which exact information are needed? Furthermore, how can mutual influence be prevented? One solution might be,
to perform a controlled experiment with VR. This was for example tested with table tennis. While the participant played table
tennis with an VR avatar, information about the opponent was changed. As a result, it is important to see the opponent. This
visual information about the avatar was used to predict the direction of the shot ahead of its realization. Therefore, in a
competition the information about the body is used the most.
Visual Appearance of Avatars
As already mentioned, in VR avatars are used to show other people in the virtual room so that the participants of the experiment
can interact with them. This visual appearance of the avatar can be changed with VR. Researchers explored that it does not matter
if the participant interacts with a humanoid or a robot avatar. Not only interaction partners can be shown via an avatar, also
self-avatars are possible in VR. This means that the person really sees his or her own body in the virtual room. This avatar and
thus, the participants body can also be modified, which can be used for different kind of experiments. One case is the body
perception in anorexia nervosa. Patients with this disease misperceive their bodies. The researcher provided in an experiment
different versions of avatars, which might be thicker or thinner than their actual body, and presented them to the patients.
Afterwards the patients had to estimate which one is their actual body and which is their desired body. Surprisingly, both groups
of participants, the patients and the control group, estimated a smaller body shape than they really had. This new technological
progress can help to understand the patient's disease better and may offer new ways to heal such diseases.
Statistical Body Models for Psychology
But these 3D human avatars are also useful for different kind of studies, like for games, shopping or also for health applications.
So, the question arises how such avatars can be developed? As these body models are costly to design, the guest speaker Stephan
Streuber created crowdsourcing to generate attribute ratings of 3D body shapes corresponding to standard linguistic descriptions of
shapes. With this new process named "crowdshaping", 3D body shapes can be automatically reconstructed by how people or avatars are
described. Furthermore, personality traits can be derived from the body shape. Therefore, social biases associated with body shape
can be uncovered. At the Bodytalk Website from the Max Planck Institute for Intelligent Systems you can test which characteristic
can be concluded from which body shape.
Provoking and measuring emotions like anxiety, stress and aggression in VR
Another topic for VR use cases is the psychological field of research and thus, feelings like anxiety, stress and aggression are
also explored. Researcher tried to provoke these emotions with VR and measure it. As already mentioned, the real world is
uncontrollable and situations that you want to practice may not occur when you need them. In VR everything can be planned and
researcher know exactly what can happen. Another advantage is that there may be a trainer next to the participant, who gives
feedback. Therefore, situations where people get anxious, stressed or aggressive can be trained. For example, how do people react
when someone cuts the line in the super market? With an interactive social scenario people have the opportunity to learn how to
deal with such a situation. Also, people with psychiatric problems can learn with VR how to reduce their stress level and how to
relax.
Conclusion
To sum it up, VR has lots of advantages and use cases for research about the social perception and interaction. With VR, situations
can be controlled and the participants in the experiments are not influenced by the real world. With the mentioned 3D body models,
which can be used in a virtual room, there arise new use cases. For instance, people can have an own avatar and buy online fitting
clothes. There may also appear communication platforms which you can really visit with your perfect body model of yourself and talk
to other people's avatars.
MMI2 – WS18/19
Guest Lecture (14.11.18)
by Stephan Streuber
Written by:
Christina Scheckenhofer
MMT Master – 3. Semester
Guest Lecture: Avatars and Social Interactions/Engineering social realism – Dr. Stefan Streuber
by Daniel Steidl
Stefan Streuber is Assistant Professor in the Department of Computer and Information Science at the University of Konstanz. His main interest is the collective behavior of human and animals. He held a lecture about his work about social perception and social avatars in Virtual Reality with the Max Planck Institute Tübingen and presented some projects of this collaboration.
Virtual Reality as a research tool?
Laboratory experiments can feel very artificial for a test person. They stand in contrast to real life situations. But a natural interaction would be important to get as realistic results as possible. Because of that Stefan Streuber uses Virtual Reality.
Using Virtual Reality leads to a few advantages. It is possible to imitate a real situation; the participant has the feeling of being there. This phenomenon is called presence and results in the test person doing real body reactions.
Another positive effect is the flexibility that arises with Virtual Reality in experiments. The researcher is able to replace and insert different objects in the same situation. That brings a better control of the research environment. Furthermore, it is possible to examine dangerous situations without harming a participant.
In common, working with VR is cheap, portable and scalable.
Project coordination
The first project, Mr. Streuber showed us, was about human coordination. In a common interaction it's not only important what a person says. The most human interaction occurs from facial expression, body talk and similar behaviors.
His hypothesis: A person not only reacts on another human, but also on natural social interaction. There should be a participant's reaction on social context, mental states or objects with which the test person interacts.
But how get mental thoughts? And is there a present natural influence? For that he and his team used VR to get control over visual information. They simulated a table tennis match and let randomly disappear important objects for this interaction: Either the partner, the table tennis racket or the ball wasn't shown. The researchers looked on the participant's reactions. Is the reaction a natural one? And which of the objects affects more performance in table tennis than the others?
The results were impressive. As well the own body as the paddle are not important for a realistic and natural reaction. In opposite of that the partner's body is important for realistic reaction and an affective performance in playing table tennis.
These results are different compared with previous studies without VR.
Project social context
In the next project the research team compared between VR avatars and robotic avatars. The exercise was to make high five with them. Again the focus was on looking at the natural reaction. And again the context matters as the movement reactions vary whether it was the human or the robot.
Project Self-Avatar
In another experiment the research team used Virtual Reality to visualize an avatar of the participant in a virtual world. In this case, the test persons had a distorted body perception, called anorexia nervosa. They were shown different body shapes of which they had to find out their own body size. A second group without distorted body perception was used for control. They were also asked about what body shape they would desire.
The results show surprisingly that the participants mostly did a right guess about their own body shape. Nevertheless, the anorexic patients desire a smaller body than the control group.
Project Anxiety, stress & aggression
In this project the participants were exposed to three different situations in Virtual Reality to trigger different emotions. Firstly they get the feeling of falling down trigger fear. The test persons were lead into a cage. This cage moved into a significantly height, stopped and immediately fell down.
Then they were virtually placed into a room with squared plates. They had to calculate mathematic tasks in a short duration. Every time they calculated wrong one plate fell into the deep. This should trigger stress feelings.
In a third experiment the participants had a ring and their task was to pull that ring trough a rail. If they touched the rail, they failed and had to start again. After every round the ring was shrinking to increase the exercise's difficulty.
Body Talk Project
Stefan Streuber and his research colleagues collected body shapes from a lot of people with different sizes by scanning their body. Now they are able to generate every size of body shape.
To prove that, they let people describe sample body shapes by filling a questionnaire. With this words they generated new body shapes und compared them with the initial ones. It came out that the body shapes generated by words were the same as the sample ones that were shown the test persons in the beginning.
In another experiment, they showed several images from human bodies to participants. They should describe these bodies with adjectives. With these adjectives the research team also generated similar virtual bodies.
Traits from Body Shape
In a last project participants were shown human faces with different emotions. They also were prompted to choose bodies, that place to specific words from the US-Electives. It turned out, that more corpulent bodies were connected with republican politicians and smaller and thinner bodies with democratic politicians. Furthermore, personally traits of a person could affect the interpretation of a whole group. This also includes social traits like kindness, power and attraction. Even the gender difference could influence the body shape interpretation.
In summary, the body talk project is very interesting and can be tested by yourself on the project's homepage.
MMI2 – WS18/19
Guest Lecture (14.11.18)
by Stephan Streuber
Written by:
Daniel Steidl
Guest Lecture: Peripheral Interaction Design – Dr. Saskia Bakker
by Yannick Weiß
Guest lecture held by Saskia Bakker, Assistant Professor at the Industrial Design Department of Eindhoven University of Technology (TU/e).
Much the same as "Love" in the hit single "Love is all around" by Wet Wet Wet, digital information is all around you and everywhere you go. We already interact with it ubiquitously and extensively. But despite the rise of fast mobile internet and IoT (Internet of Things), one thing seems to remain static: If we want to interact with this digital information, we still must switch our entire focus to it. Saskia Bakker spoke to us about this problem and how we can design peripheral interactions to accommodate it.
Information in the real world
In our daily environment we already perceive a lot of information simultaneously without the need of our undivided attention. In a simple conversation, we perceive and conclude data not only about the other person's state of mind and intentions, but also about everything that is going on in the environment: the temperature, weather and wind, the birds in the trees and the cars honking on the next street. So, we are capable of perceiving and interacting with our periphery, but when it comes to digital information, we still focus all our attention on a single display, i.e. a smartphone or desktop screen, to interact with it.
What is peripheral interaction?

Interactions can be placed in one of three categories: Focused Interactions – which require the full attention of the user Implicit Interactions – which are completely outside the attention field and don't require any explicit input by the user Peripheral Interaction – which describes the spectrum in between the fully focused and completely implicit interactions. While all three types can be observed in our environment, the interactions with digital information are usually done through either focused interaction – i.e. sending or receiving messages on your smartphone – or completely implicitly through smart gadgets or artificial intelligence – i.e. smart thermostats. To show us how displaying digital information in the periphery can be used effectively to lower cognitive load, Saskia introduced us to four different projects/products she worked on.
Fireflies – Peripheral Interaction in the classroom

Fireflies is a project that tries to lower the cognitive burden of teachers during class. Displaying information about the students is usually not done at all or through digital dashboards with graphs, which require the teacher's attention. By equipping each desk with a small lamp, it is possible to convey virtual data in the physical world through light. This enables a lot of possible use cases in combination with different information tracking. One application would be to track the geographic location of the teacher throughout a course, and indicate by light, which desks the teacher already visited to help or observe a pupil. This makes it easier for a teacher to give each student the attention he or she requires, without giving up some of the focus on the lecture.
Physikit – Peripheral Interaction in the home

Physikits are small colored cubes consisting of different sensors and actuators. They can observe different environmental conditions like temperature and humidity and indicate these information to the user by lighting up, vibrating, rotating or acting like a fan – depending on the cube. The user can freely decide what the cube observes and how and when it should react. You can for example map the humidity of the air onto the rotation of the cube or make a cube light up if the room is getting too hot. That makes them a great alternative to alarms and alerts, which are meant to draw your full attention.
Beepless – Peripheral Interaction in the hospital

The same principle, offloading the information from alarms to peripheral displays to reduce stress and facilitate multitasking, is used in Beepless. This project introduces peripheral interaction into hospitals to help nurses in their daily routines. Let's imagine a situation often encountered by nurses: A baby is hooked up to several machines to monitor its health (e.g. by measuring temperature and heartrate) or administer small doses of medicine. The nurse gets pulled away by something urgent. When he or she comes back, there are several visual and auditive alerts going off, since for example the medicine is almost running out. These alerts can induce further stress and make it harder to distinguish between more and less important or urgent tasks. The solution to this were ambient lights on each machine that slowly switch or fade into different colors, making it easier to accurately understand the machine's status without the need for alarms.
Musico – Peripheral Interaction in the Home

The last project Saskia talked about was Musico, a context aware music player. A lot of people listen to different Spotify playlists, which they set up for specific occasions, e.g. a playlist for lazy Sunday mornings or a family dinner. But controlling or selecting the playlists still requires the user's full attention. Musico makes controlling the music more mundane and peripheral by automatically choosing suitable tracks based on specific environmental context. Through data like the current time and location or the noise level, which lets it approximate the amount of people in the room, Musico can dynamically adjust the music to the user's current situation. But it doesn't take away the control of the music completely, since the user still can interact with the player e.g. pausing, skipping or volume control.
Peripheral Interaction in the Future

Saskia Bakker showed us a lot of excellent approaches to designing and integrating peripheral interactions into different situations and use cases. Conveying digital information more peripheral to let us focus on the most important aspects and interact with the rest more incidentally is an idea, that will probably become even more relevant with the rising amount of digital data we have to or want to interact with. The hardware and software requirements, as shown in the projects, are not that complex and expensive, making peripheral interactions an easy alternative to staring at different computer screens and a great tool for information visualization.
MMI2 – WS18/19
Guest Lecture (11.12.18)
by Dr. Saskia Bakker
Written by:
Yannick Weiß
HCI Master – 2. Semester
Guest Lecture: Peripheral Interaction Design – Dr. Saskia Bakker
by Nina Augustin

Saskia Bakker is an assistant professor at the Industrial Design department of the Eindhoven University of Technology. In 2013, she obtained her PhD, on her dissertation entitled "Design for Peripheral Interaction", from the Eindhoven University of Technology.
Thinking outside the Attention Box
When we interact with our smartphone we seem to be involved in a monologue: we shift our full attention to the phone in order to receive the information we need. And then it is only us and our phone. But appearance is deceptive – reality seems to be more than that. We are surrounded by lots of information sources, we concurrently interact with day by day. Be it the sun that is shining and causes a happy mood, the sound of music in the background or people surrounding us. Peripheral information occur everywhere outside of our focus of attention. And even if they are not in focus, they are subconsciously processed and provide meaningful insights into our surroundings.

Interaction devices are usually designed to be in the focus of attention and rather exclude our peripheral environment. But why give away the potential that lies outside our attentional field? How could we exploit our attention in the periphery?

These are the questions Saskia Bakker asked herself and which motivated her to study and design human attention and interactive devices that operate outside the direct attentional field of the user.
Filling a Gap in Interaction Design
Based on the Interaction-Attention Continuum, which she established together with a colleague in 2016, she explained that there exist various levels of human attention in interaction design ranging from fully focused attention to interaction completely outside of the human attentional field. In the center of attention happens our focused interactions . They occur consciously, intentional and we have a direct precise control. In contrast to this, the implicit interactions take place outside of this attentional field. Thus, interactions happen subcounsciusly, untintentional and we cannot control them directly. According a continnum, the states between these two extremes, are described as peripheral interactions . They happen in the periphery of our attention. Just as implicit interactions they are subconscious, however they are intentional and can be controlled in an imprecise way. By focusing on peripheral interaction, Bakker intends to fill a gap that usually exists in interaction design; which however becomes more and more important in times of Ubiquitous Computing and the Internet of Things, when more and more devices surround us, becoming smaller and more invisible.

In the following she introduced four projects she worked on, which constitute examples of how to design peripheral interactions in three different environments: a classroom, at home and in a hospital.
Fireflies
Over time, classrooms become more and more enriched by different kinds of technology. However, monitoring devices for teachers often demand too much attention and cognition and therefore make the job of teachers even harder. Fireflies is a simple solution which helps teachers to give each student equal attention and assistance. The concept contains of several small devices which are placed in front of each student on the desks. A system tracks the position of the teacher and leads him/her to students, who did not get attention yet or might need help, by switching on different colored lights in the devices. With fireflies, the classroom is visually augmented with (beforehand) invisible information, which can be recognized and processed with low cognitive load.
Physikit
The information we receive about our environment help us making decisions in our everyday lives and make us more aware of our current situation. However much of this information is not directly accessible to us – such as temperature, humidity, air quality or noise level. Physikit is a visualization platform which make sensor data tangible and give us a better feel of our environment changing over time. 4 little colorful cubes make it possible to convert sensor information into either light, motion, air flow and vibrations. Through a web interface, sensors can be integrated, and the output be configurated.
Beepless
The premature baby unit of a hospital is an extremely demanding and critical work environment. Nurses must constantly monitor the baby's status, make fast decision and handle huge responsibility. As nurses often act under stress and pressure, cognitive resources and time are limited. Thus, devices in their work environment should efficiently convey information without being distractive. Beepless is a concept, including an implementation of lights in the environment, which color-code the status of the respective patient. With this offload of information into the environment, nurses can receive information by their periphery and help their patients much faster. Moreover, this concept includes a foot paddle silencing the alarms when pressed. Without auditory distractions, stress for both – the patient and the nurse – can be reduced and the nurse can focus her full attention on the baby.
Musico
This conical device moves us back to our homes and daily live situations. Many of us know the struggle of creating and adapting the perfect playlist for different occasions and locations. One for getting up in the morning, another for a romantic dinner for two or a game night with many friends… Musico is a context-sensible device, which automates the adjustment of music played around us according not only our preferences, but also the location, the number of people in the room and the day time. Additionally, it is dynamically learning during its use when songs are skipped or replayed.
Interaction Design for the Future
Saskia Bakker allowed us an interesting insight into her design-research work and impressively demonstrated the potential of designing things outside of our attention focus. Big part of her job, so she says, contains of studying the human in natural environments. Methods like for instance "shadowing" and observing a nurse for one day or conducting qualitative interviews with teachers and students provide her instructive insights.
Corresponding the thought of ubiquitous computing, devices are put into the background (i.e. the periphery) and get more and more invisible, as we users get more into focus. Our attention and cognitive capacity are limited resources in an increasingly complex world. By conveying information tangibly through the periphery, we can reduce cognitive load and stay focused on important tasks.
MMI2 – WS18/19
Guest Lecture (11.12.18)
by Dr. Saskia Bakker
Written by:
Nina Augustin
HCI Master – 2. Semester
Devices that overlap with the human body – Pedro Lopes
by Nina Augustin

How can interactive devices can connect with users in the most immediate and personal way?
During the last decades, mobile devices became smaller and got closer and closer to our human body. In the 90s, mobile devices moved computing into our pockets and recently, wearables brought computing into constant physical contact with our skin (see illustration). Some researchers argue that the next generation of interactive devices will move past the user's skin and be directly implanted inside the user's body. However, Pedro Lopes follows another approach: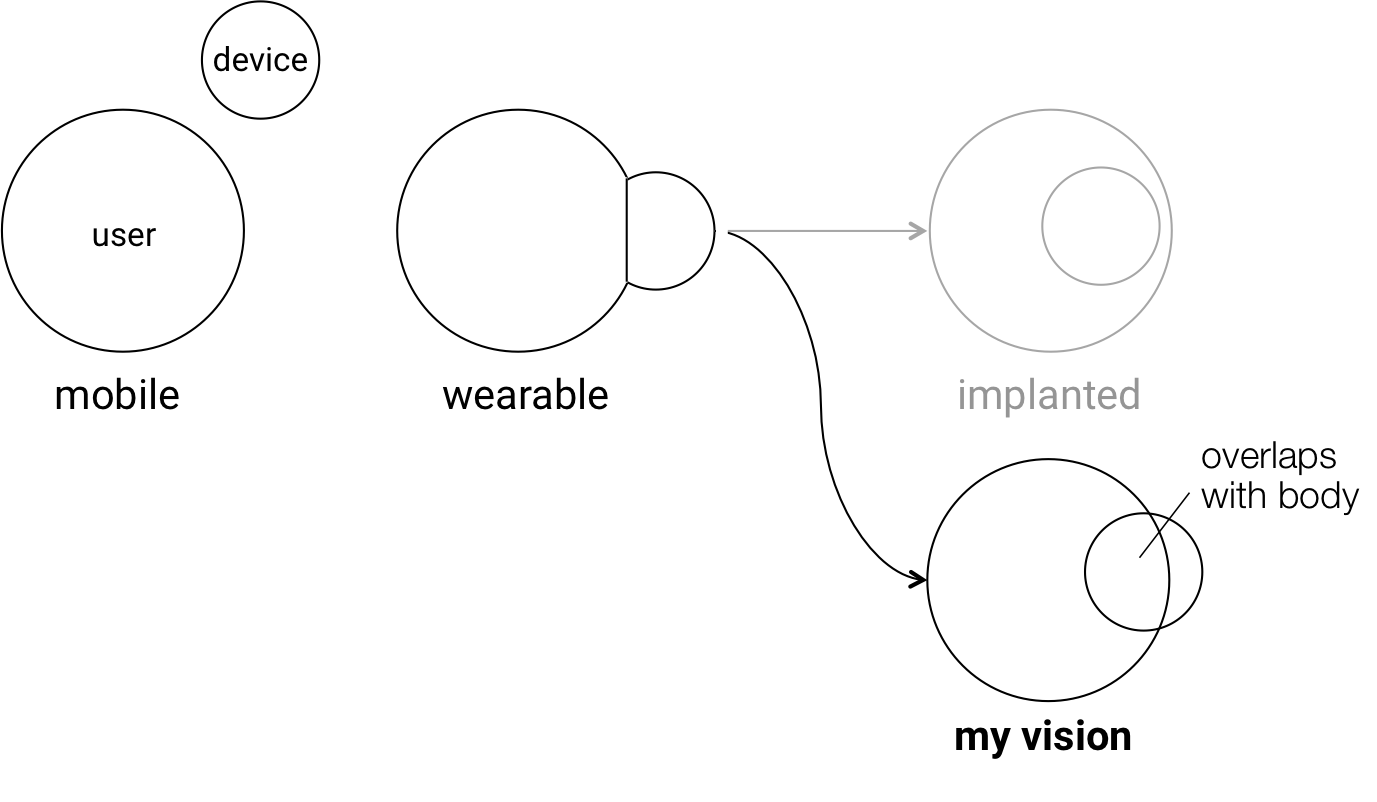 "What we need is to get closer to the user's senses and, as I argue, to the actuators as well.">
Lopes aims to design and create interactive systems, which intentionally borrow the user's body for input and output, rather than adding more technology to the body – Devices that overlap with the user's muscles and intentionally triggers muscle movements.
Most of his invented systems integrate EMS (Electrical Muscle Stimulation). Some people might already have experienced this technology as "EMS-Trainings" are increasingly offered at gyms as a way to efficiently working out and losing weight. Pedro Lopes however uses this technology in a more accurate and sophisticated way in order to study the scope of EMS and to contribute to the scientific field of Human-Computer-Interaction.
Following, Lopes offers us an insight into the projects he has worked on with different research groups. As he creates devices that are – to a certain degree – taking over actions for us, important considerations arise: Who is in control? Does the overlap change the user's perceived agency?

These are questions that he addresses towards the end of his talk.
Experience: An alternative to mechanical actuators
An exoskeleton is a device, which allow for limb movement in a mechanical way, actuating on motors. Exoskeletons, which are for instance employed in military or medical settings, appear bulky and restrict the user in his movements. Further disadvantages of this technology are the high weight and the reliance on big battery packs that the user needs to carry. This is where EMS comes into play: This technology does not rely on big batteries as the limb movements result from muscle contractions, which are triggered by the electrical stimulation. Thus, the motion energy comes from our muscles themselves – namely from carbs. Instead of carrying a heavy battery set – eating your morning cereal should do the job. The EMS-skeleton is further small and fits – attached to the arm – perfectly under a t-shirt sleeve. These are some of the huge advantages that makes EMS attractive to research.
An obvious application of EMS are Virtual Reality environments as haptic sensations can augment the visual and auditory experience and eventually create more realism. With a sensation of haptics, it is possible to simulate obstacles like walls or adding the experience of gravity when carrying a virtual object. One of Lopes' past projects is called Impacto . The hybrid bracelet combines electrical muscle stimulation and small solenoids, which exert a mechanical force on the user's skin. It is used in VR settings to simulate for instance realistic punches with force feedback when the user hits his opponent or gets hit by him. An evaluation study indicated that a combination of both techniques result in a higher perceived realism level than the technologies applied separately. The arm moving back (caused by EMS) is a reaction to a virtual punch, explained by the solenoid tap. This event however is too brief for the human to rationalize and thus the impact is attributed to a moving mass against the body, which feels realistic to the user.
Information access: a new I/O modality (proprioception)
After exploring the output side of the EMS-technology, Pedro Lopes moves on with a new input modality for his interactive systems: Proprioception. In contrast to stimuli like sounds or images that we receive externally, proprioception origins internally and reflects the pose of our own body. The counterpart of the EMS is the EMG (electromyogram), which measures electric muscle activity and derives proprioception. Proprioceptive interactions are usually conceptualized in relationship between the device and the human – the following project however examined the application to the user's physical environment.
The usability term affordance was established by Donald Norman and describes the interaction possibilities an object offers to the user by its visual and haptic appearance. Affordance++ is a project, which takes this definition beyond these aspects and adds an action component to it. It is hard to design timely actions visually, but with the help of Affordance++, a cup of hot water can "tell" you to use the handle instead of touching the burning surface and a spray can does not "allow" you to forget shaking it before usage. You wonder how this should work?
Watch this video to see how Pedro Lopes and his colleagues implemented a way that objects could communicate directly and immediately with us in a whole new way:
In contrast to pictures or music, muscle memory is nothing you can recall or express easily. Try it once to explain your muscle movements while drawing a car – not easy, right? Another project that Lopes presents in his talk is the muscle-plotter, which records muscle movements and allows for outputting recorded drawings by actuating the user's wrist via electrical muscle stimulation.
Who is in control?
In this talk, Lopes presented many exciting projects. The possibilities of EMS- and EMG-technology are amazing and seem endless. However, the thought arises, where this technology finally could lead to as we allow systems to take over muscle functions and generally – agency. A sense of agency implies the experience of controlling one's own body, as well as having the ability to change the external environment. Instead of completely taking over the control of the user (as illustrated in the Art Project Ad Infinitum), the goal should be to maintain the users's (perceived) agency to a certain degree.
If you want to get more insights into Pedro Lopes' research and see more of his projects, check out his website.
MMI2 – WS18/19
Guest Lecture (12.12.18)
by Pedro Lopes, University of Chicago (assist. Prof.)
Written by:
Nina Augustin
HCI Master – 2. Semester